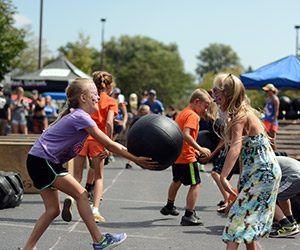 Welcome to Project Uplift, a local, Fort Collins event dedicated to helping foster and adoptive families across Colorado. Each year, we offer an intense fitness competition in partnership with OTAC Crossfit® to allow local athletes to show us what they can do while raising money for the giving families in our area. Many generous families open their hearts and their homes each year to provide a loving home for foster children, but they need all the help and support they can get. It's our mission to help.
This family event is open to everyone, and many foster and adoptive families join in the fun! We offer special children's events so everyone can participate. Here's what you can expect at the event.
Project Uplift 7.0 — September 11, 2021
We'll see you at OTAC Crossfit's new location in Fort Collins! We will have:
Over 160+ amazing men and women athletes competing all day
50 volunteers and judges running the show
Local vendors with tents and goodies
2 delicious food trucks
Live Local DJ keeping the athletes motivated
Kid's Obstacle Course and additional fun!
We offer athlete participation gifts to all those who compete, regardless of their placement. Our sponsors will be at tents throughout the event with both free goodies and products for purchase. This all-day event makes amazing memories for a wonderful cause. If you would like to get involved as a sponsor or an athlete, get in touch with our team today.